LONGFORD COUNTY COUNCIL ENVIRONMENT DEPARTMENT
Environmental Awareness
Environment - Waste Minimisation.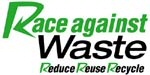 In Ireland, we currently send over 90% of waste to landfill.
This is no longer sustainable or acceptable and, as caretakers of the environment for future generations, we must achieve a situation where sending waste to landfill is OUR LAST OPTION.
The average household produces almost 1.5 tonnes of waste a year. We can reduce this amount by prevention, minimisation, reuse and recycling. About half of it could usefully be recycled. This would be good for the environment and the economy. Recycling reduces the use of raw materials, lowers energy costs and results in less waste going to landfill.
Take Action Now.
Recycle glass and cans at local 'bring banks' · Check if local charities can re-use unwanted clothes and household goods · Compost organic waste at home (about a third of our household rubbish is kitchen and garden waste). · Home composting units are now available from Longford County Council at a Special Discount Rate of €25 (Contact Environment Section for further details).
Reduce Packaging Waste.
Buy loose produce whenever possible Avoid over-packaged products · Buy products in reusable or recyclable containers · Say "no" to plastic bags and use reusable bags for shopping · Everyone responsible for generating waste will have to contribute their share of the cost of waste disposal in accordance with the "polluter pays" principle.